Store Finder
Breville Small Home Appliances on sale in Sydney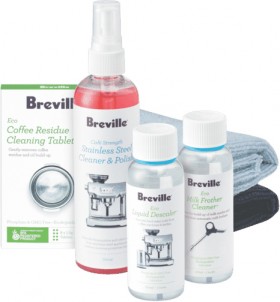 BES015CLR0NAN1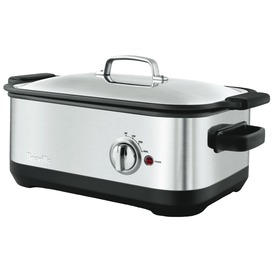 This Breville cooker is a slow cooker. You can cook up a feast for a gathering of friends with its 7 litre capacity. The Breville BSC560BSS's stainless steel finish helps you enhance the look of your kitchen. It features manual controls, so you can easily check settings and duration. The Breville cooker has 3 program settings. Plus, you can get the perfect cooking temperature with its slow cook, roasting, and simmer functions. Choose an energy-saving and time-saving cooking method with this Brev...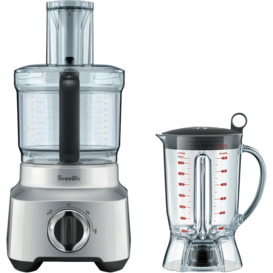 This Breville food processor's 1000 watt electric motor lets you easily chop dense foods. It features a 1.5 litre capacity and a wide feed chute. You can load the accessories for easy cleaning with the Breville BFP580SIL's dishwasher safe parts. It comes with a reversible disc, a dough blade, a quad blade, a shredding disc, a slicing disc, and an adjustable disc. The Breville food processor has pulse settings and a silver finish. Knead bread or cookie dough effortlessly thanks to this Breville f...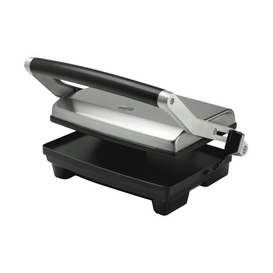 This Breville sandwich press features a 2 slice capacity, so you can create sandwiches for friends. It features a 2000 watt heating element. Plus, the Breville BSG520BSS's adjustable height control enables you to make a man-size sandwich when you're extra hungry. You can spend less time cleaning up with its non-stick coating. The Breville sandwich maker features warm up and ready lights, so you can time your sandwiches perfectly. Its silver finish allows you to upgrade your kitchen's appearance....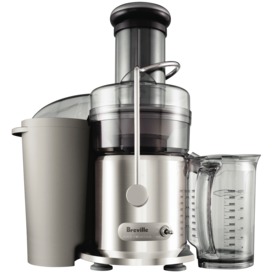 This Breville the Juice Fountain Max BJE410CRO makes juicing a breeze with the extra wide feed chute and filter, designed so you can juice whole fruits and vegetables. The extraction system has a stainless steel reinforced micro mesh filter created to retain nutrients, so you get all the benefits of fresh juice while separating juice and froth with a built-in froth separator. With minimal effort you can reap the benefits of fresh produce with this Breville juicer....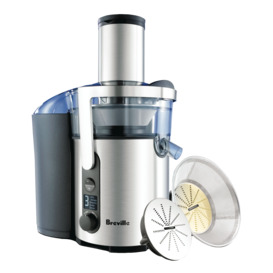 This Breville juicer's stainless steel finish enables you to spruce up your kitchen bench. It has a titanium reinforced blade. Also, the Breville BJE520BSS has a 3 litre capacity, so you can juice large quantities at once. Make a breakfast of champions out of hard veggies and soft fruits alike with its 5 speed settings. The Breville juicer's safety lock lets you keep curious fingers safe. Plus, it features a wide food chute, so you can juice whole carrots, celery stalks and small apples. Enjoy a...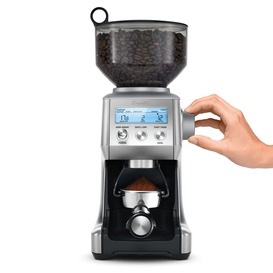 Breville's conical burr Smart Grinder uses Dosing IQ technology to automatically adjust the dose whenever you change the grind. Choose between 'Cups' for French Press or Filter, and 'Shots' for Espresso, to get the right dose for your needs, whatever the grind setting. You can even tweak for taste....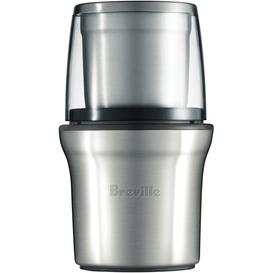 When you need coffee or spices ground up in a flash, you need the Breville BCG200 Coffee and Spice Grinder. Using quality, stainless-steel blades, this device is able to slice and dice everything nice, delivering that powerful flavour experienced when using freshly cut herbs, spices and coffee beans.The Coffee and Spice Grinder can hold up to 75 grams, which equates to around 12 cups of coffee. Plus, it's easy to clean thanks to its removal bowl, also in stainless steel....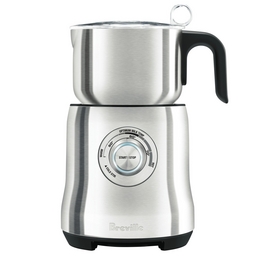 This Breville the Milk Cafe Milk Frother BMF600 delivers even heat distribution thanks to its induction heating technology that helps create the creamy hot milk needed for velvety hot chocolates. Achieve just the right level of heat with its adjustable temperature control dial. This Breville milk frother is easy to clean, with the dishwasher-safe stainless steel jug and a large capacity to make up to three cups of foamed milk....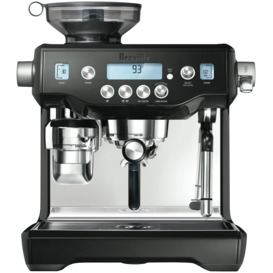 This Breville coffee machine's espresso maker enables you to enjoy coffee drinks whenever you want. It has a black finish and a 2.5 litre capacity. The Breville BES980BKS has a steam wand, allowing you to create foaming milk for lattes and macchiatos. It has a grinder. You can enjoy pot after pot of stimulating, enjoyable coffee with the Breville coffee machine's 1 cup brewing capacity. Also, its one-touch operation helps you effortlessly produce sensational coffee without hassle. The coffee mac...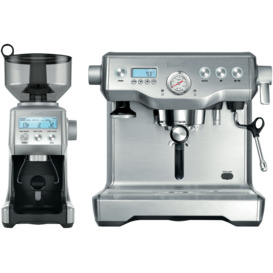 This Breville coffee machine features an espresso maker, so you can enjoy espresso drinks at your convenience. It features a stainless steel finish, a 9 bar espresso pump, a grinder, and a frother. You can produce cup after cup of comforting, satisfying coffee with the Breville BEP920BSS's 2 cup brewing capacity. Effortlessly prepare your coffee beverages with consistency thanks to this Breville coffee machine....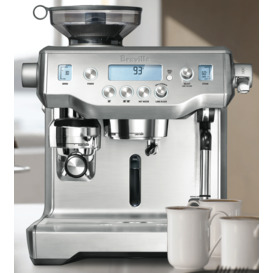 You can prepare espresso drinks in your own home with this Breville coffee machine's espresso maker. It has a stainless steel finish, a 2.5 litre capacity, a 15 bar espresso pump, a grinder, and a frother. Also, the Breville BES980BSS's 1 cup brewing capacity lets you make many mugfuls of comforting, stimulating coffee. It has one-touch operation, so you can conveniently make great coffee without any trouble. Improve the taste of your water with the Breville coffee machine's built-in water filte...