Store Finder
lavazza Small Home Appliances on sale in Sydney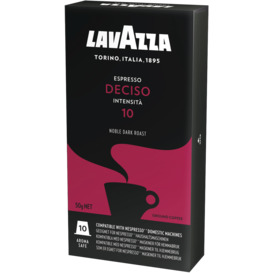 * Roast: Dark* Intensity: 10* Coffee Origins: Coffees from Central South-America and South-East Asia* Flavour Profile: A blend with an intense flavour and precious velvety and wood notes...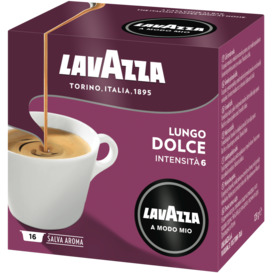 Lavazza Lungo Dolce 7.5 gram coffee capsules contain a perfect well-rounded, balanced and creamy blend for that unbeatable, authentic Italian coffee taste. Lavazza Lungo Dolce coffee capsules come in a 16 pack. ...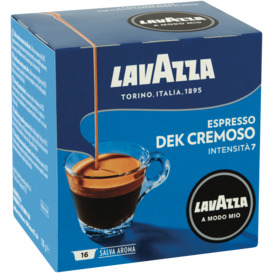 Espresso blends, perfect for those seeking the taste and aromas of the retail Italian espresso. Full flavoured and well-balanced decaffeinated coffee....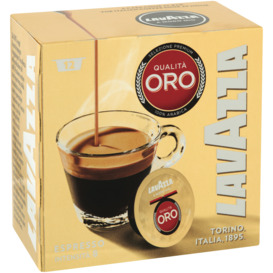 The excellence of Qualita Oro is the result of years of Lavazza's expertise in blending and roasting. A selection of the finest 100% Arabica beans, mainly from Latin America, with an unmistakable flavour and hints of malt and honey. Fruity and aromatic, this blend is perfect for the true coffee connoisseurs, for those who love to savour a premium blend daily. ... A combination of coffees originating from South East Asia, with a rich flavour and notes of spices, perfectly blended with full-bodied Arabica from Brazil and the smooth coffees of India's highlands, to obtain an espresso which stands out for its persistent aftertaste, full body and richness of spicy aromas.... A blend of Brazilian Arabica coffees, with an aroma of white grapes and notes of dried fruits, skilfully combined with sweet flowery Indian Arabica in a delicate roast which reveals a well-rounded bouquet, with a sweet aftertaste and distinctive aromatic notes.... The Arabica coffees of Brazil, full-bodied with notes of dried fruits, fuse with those of India, with their intense sweet aromas; these qualities, along with a rich deep roast, give a deeply balanced and full, slightly caramelised flavour, rich in smokey toasted notes. The espresso of Italian tradition. ... The Lavazza Qualita Oro blend is made from 100% Arabica beans from Central and South America, finely crafted to provide an aroma of flowers and dried fruits combined with notes of honey. A sweet and refined taste.... Kickstart your morning with a warm brew thanks to this Lavazza Jolie Plus Espresso Capsule Coffee Machine. Its 10-bar pressure pump makes for a smooth coffee extraction, while its fast heat up time means you can have your coffee ready in no time. The sleek and stylish design of this capsule machine with a height-adjustable drip tray makes it a great accessory for the modern kitchen.... Using this Lavazza Desea Black Ink Capsule Coffee Machine 18000293 you can create deliciously rich coffee in the morning at the simple touch of a button. Explore a range of coffee types with the four pre-dosed coffee options and five milk options on this capsule machine, so you can find what is just right for you. Working at just 43 dB, the Desea's quiet operation makes it perfect for those in smaller apartments. ... Create perfectly frothed milk with this Lavazza Milk Up Induction Frother. Great for a range of warm drinks, this milk frother allows you to create both hot and cold milk froth, while its dishwasher-safe exterior makes for an easy clean up.... This Lavazza Jolie Capsule Coffee Machine features an integrated milk frother so you can make the perfect morning brew in no time. Its 10-bar pressure pump makes for a smooth coffee extraction, while its fast heat up time means you can have your coffee ready in no time. Keep the coffee flowing and your system running smoothly with this capsule machine's empty water tank alerts so you know exactly when to refill. Add a touch of Italian sophistication to your kitchen with the Lavazza Jolie Plus an...