Store Finder
SodaStream Small Home Appliances on sale in Sydney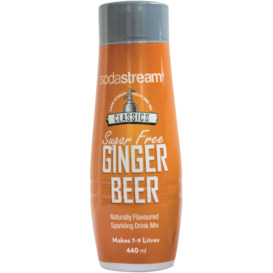 Try this refreshing old favourite to quench your thirst. Each 440ml bottle makes up to 9 litres of flavoured sparkling water. ... The Spirit Sparkling Water Maker turns water into sparkling water in seconds and is designed to capture the essence of SodaStreams original machines while incorporating a new slimmer design to fit beautifully in any modern day kitchen. The Spirit Sparkling Water Maker comes with one CO2 cylinder and one carbonating bottle so you can make your favourite sparkling drinks instantly.... Not suitable for use in the dishwasher or in hot water. Bottles should not be left in direct sunlight for long periods of time and should only be washed in cold water using either a cleaning tablet or a squeeze of lemon juice.... * Energy Sparkling Water Flavour* Contains Caffeine, Vitamins B2, B3 and B6* Makes up to 7 Litres of Sparkling Energy Drink... Loved all around the world, the great taste of Pepsi will refresh you everyday. ... With Max Taste, No Sugar Pepsi Max is a low-calorie and sugar-free version of classic Pepsi. ... 7Up Lemonade is the original lemon and lime sparkling drink thats perfectly balanced to develop a crisp, clean taste that refreshes. ... Bold orange flavour and strongly aromatic, Mirinda is a favourite choice for young people around the world. With vibrant fizz, this delicious flavoured drink will wake the senses and make you laugh out loud. ... Mountain Dew Energised is a bold and distinctive refreshing citrus flavoured drink. With its Caffeinated Formula it provides an energised lift and pick me up at any time of day or night, ... Zeros Lime has a zesty and thirst quenching taste, with no sugar, no artificial colours and low calories. This mix can easily be transformed into a delicious drink by simply adding it to carbonated water.... Feel the power with this premium SodaStream Sparkling Water Maker that allows you to easily make sparkling water at home with the touch of a button. Power follows in the footsteps of Play and the award-winning Source Sparkling Water Makers, both of which were created in collaboration with renowned global designer Yves Behar. Powered by electricity you simply fill the carbonating bottle with tap water, place in the snap lock system, choose from 3 levels of carbonation and Power turns it into spar...