Store Finder
Navman Communications & Navigation on sale in Sydney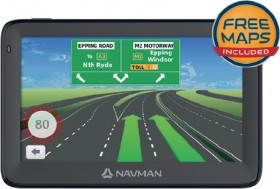 FREE Maps included. INAVEZY465...


Only at Officeworks. INNAVMI780... Feast your eyes on larger-than-life geographical information with this Navman GPS unit's 5-inch screen. Its touchscreen enables you to easily get to the applications and features you need to use. The Navman GPS unit features spoken street names, so you can get the lay of the land loud and clear. You can navigate through unfamiliar roads much more easily with help from this Navman GPS unit.... The Navman Cruise650MMT 4496202 has a bright, easy to read 6 inch smooth glide display and clear features make navigating a breeze. Theres free Monthly Maps, a wealth of data available and a Trip Optimisation option that will get you to your destination in the best possible way. It also includes bluetooth for handsfree calling. With Premium Safety Voice Alerts, Driver Fatigue Alert, Speed Limit Alert and Landmark Guidance PLUS, the Cruise650MMT makes for a safe and stress-free journey.... The Navman Move130M (4834574) is a 5" GPS with Australian and New Zealand Maps included. The MOVE130M has a ton of easy to use features to keep you moving in the right direction. Free maps will keep you up to date with changes to roads or speed limits. Youll get visual and verbal Speed Limit Alerts to avoid fines. 3D Junction views with real signage depicted that show you clearly which lane to take at complex intersections, and Landmark Guidance Plus which uses easily recognisable landmarks a... The Navman (4905201) Micam is a 5 Inch GPS. It features a Full HD 1080P recording Dash Cam that not only captures critical information in an incident with its 3-Axis G-sensor and GPS-tagged video, it also has all the navigation and safety features Navman is known for. It can also read your phone messages out loud to you while you drive. MiCam will not only free up your windscreen, it will remove the distractions so you can focus on the journey, giving you the right information exactly when you n...